Overwatch 2 patch notes bring pure chaos to competitive play
The mid-season Overwatch 2 patch notes are here for the latest update, and there are numerous hero changes across all three roles of tank, damage, and healer for the Blizzard multiplayer game. There's also new weekly challenges, the addition of a chaotic competitive mode, fresh-look OWL skins, and the arrival of its much-anticipated first anime collaboration as Overwatch 2 season 3 rolls on.
The Overwatch 2 One Punch Man collab is now underway, with challenges live from now up until April 6 to earn free rewards including a legendary Soldier: 76 skin, Mumen Rider. There are also legendary bundles in the shop for other characters, allowing you to reimagine Doomfist as the titular Saitama, Genji as his demonic disciple Genos, and Kiriko as the Terrible Tornado, Tatsumaki.
Competitive Mystery Heroes is one of the most terrifying combinations of three words I've ever heard, but it's real and season one begins on March 14. That's right, you'll now be able to play Overwatch 2's most chaotic mode in a ranked format, following recent balance changes to the format at the start of season 3 that ensures you'll now get no more than three heroes of a single role at one time on your team.
As for hero balance, there's a tasty buff to Bap's Immortality Field, which will now keep heroes at 25% health rather than 10%. Roadhog's hook is getting a slightly lower cooldown, and it'll now be applied slightly differently for clarity purposes. A Zarya buff sees her bubbles be up more frequently, while Ashe's B.O.B. will now favour shooting targets that she is currently attacking.
There's a few small nerfs in here as well – most notably, Sojourn's torso hitbox is getting 20% wider to compensate for her angled default stance, which should make her a lot easier to hit. Orisa's ultimate, Terra Surge, will now be interrupted if she's hacked, and Wrecking Ball's mines now take a little longer to deploy and arm – although there is a welcome new setting to adjust your aim sensitivity independently while in ball form.
Overwatch 2 patch notes – March 7, 2023
Hero Updates – Tank
Orisa
Terra Surge can now be interrupted by Hack.
Ramattra
Using Annihilation while in Nemesis Form refreshes your bonus armor, to match how it works when using it in Omnic Form.
Roadhog
Chain Hook cooldown now starts when the ability ends instead of at the start.
Chain Hook cooldown reduced from 8 to 6 seconds.
Wrecking Ball
Added the hero-specific option "Relative aim sensitivity while rolling."
Added a timeout indicator for Grappling Claw located above the ability icon.
Minefield arming time increased from 1 to 1.25 seconds.
Zarya
The shared cooldown for Particle Barrier and Projected Barrier reduced from 11 to 10 seconds.
Hero Updates – Damage
Ashe
B.O.B. now prefers to shoot at enemy targets that Ashe damages with her rifle.
Hanzo
Lunge cooldown decreased from 5 to 4 seconds.
Mei
Blizzard ultimate cast time reduced from 0.5 to 0.4 seconds.
Pharah
Jump Jet movement is now influenced by directional inputs.
Sojourn
Torso hit volume width increased by 20%.
Hero Updates – Support
Baptiste
Immortality Field minimum health threshold increased from 10 to 25%.
Competitive Updates
Competitive Mystery Heroes added to Competitive Play – season one begins on March 14!
Added buttons to the Competitive Play menu that will allow players to easily access the tier legend, leaderboard, and competitive progress screens.
Players in the Top 500 will now see an animated update of their current position on the leaderboard after each match.
General Updates
Adjusted distance attenuation on enemy footsteps
We missed a change in our season 3 patch notes about some adjustments made to the distance in which you can hear enemy footsteps. We've continued to refine this change and have found a nice middle ground between where it was in Season 2 and where it was prior to today's patch.
Weekly challenges
Removed "To the Victors… – Win 15 games in Unranked or Competitive."
Added a new challenge, "Casual Dedication – Win 15 games in any Unranked mode."
Added a new challenge, "Competitive Advantage – Win 10 games in any Competitive mode."
Total number of challenges needed to earn all Overwatch Coins is still 11.
Removed "Coin Line – Win 5 games in Arcade."
Added a new challenge, "Change of Pace – Win 5 games in Mystery Heroes, Free-for-All Deathmatch, or any Arcade mode."
Changed "Role Mastery" to "Win 5 games each as 2 different roles in Quick Play or Competitive Play."
Daily challenges
"Support Weapon Mastery" reduced from 12,500 to 10,000.
"Support Ability Mastery" reduced from 10,000 to 8,000.
Challenge progress
Challenges the player has made progress on during the match will be shown with a visual representation of remaining progress needed.
End of match scoreboard
We are taking a snapshot of each player's final stats during the match and persisting it on the tab scoreboard during post-match. Previously a player's stats and name would disappear as soon as they left the match.
Matchmaking
Fixed a bug causing large parties to wait longer in queue than intended.
The matchmaker will now prioritize putting parties together which have a similar delta between the highest and lowest rated player.
Made improvements that should help reduce Unranked queue times and increase Competitive match quality.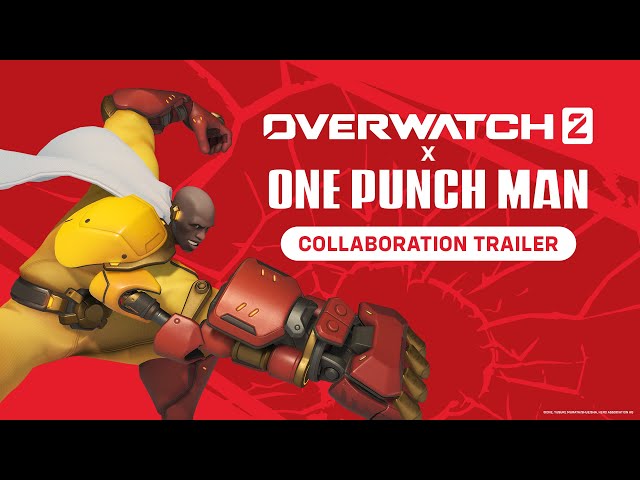 Cosmetic Updates
Overwatch 2 x One Punch Man collaboration now live! Complete challenges through April 6 and earn free themed rewards, including the legendary Mumen Rider Soldier: 76 skin.
New Overwatch League Team Skins are now in-game! Celebrate your favorite teams, including the Seoul Infernal and Vegas Eternal, by equipping their team skins for your favorite heroes.
Team Bundles are now on sale! Trios of hero skins will land in the Overwatch League shop throughout the season, available for all teams. These bundles will include free team-branded Weapon Charms!
Additional bug fixes can be found on the Overwatch website.
Be sure to check our Overwatch 2 tier list to see how things shake up. We've also got a guide to the best Overwatch 2 crosshair settings if you want to get a competitive advantage, along with an explanation of Overwatch 2 competitive ranks. Finally, make sure you're up to speed on all the Overwatch 2 maps and modes if you're jumping back in for the collaboration.