Nvidia GeForce RTX 4070 release date speculation
When is the Nvidia GeForce RTX 4070 release date? The mid-range contender won't be the top GPU in terms of specs. Yet, if you're looking to balance price and performance, it could be an affordable graphics card gateway to features like DLSS 3 and Frame Generation.
The Nvidia RTX 4070 may have what it takes to become one of the best graphics card options around, especially if you can't afford the RTX 4080. Our Nvidia RTX 4070 Ti review takes a look at its already available souped-up sibling, but it isn't quite the midrange GPU gladiator we've been waiting for. As a result, those looking to build budget systems are still waiting for a proper middle-ground option to surface.
When is the Nvidia GeForce RTX 4070 release date?
The Nvidia GeForce RTX 4070 will likely arrive in April 2023, but the company hasn't announced an official release date for the graphics card. The latest Nvidia RTX 4070 launch rumours suggest the GeForce graphics card could arrive before spring is out, as the firm has apparently given board partners a heads-up.
Reports imply Nvidia is preparing to send the RTX 4070 and RTX 4060 Ti into mass production soon, but it's best to take leaked plans with a grain of salt.
Leaked images of an Nvidia RTX 4070 box add clout to the card's existence, but the packaging isn't accompanied by an actual GPU. While cardboard alone doesn't mean the graphics card will release soon, it serves as evidence that we'll get a Founder Edition this time around.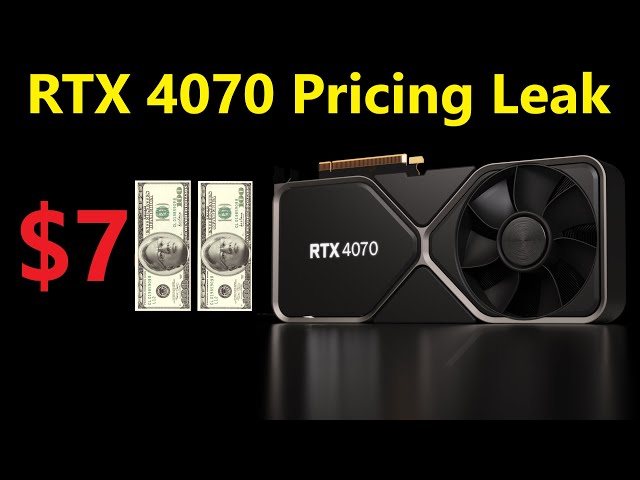 Nvidia GeForce RTX 4070 price speculation
The Nvidia RTX 4070 price could come in at $749.99, as whispers imply it won't be much cheaper the Ti version. While sources close to YouTuber Moore's Law is Dead say a Founder's Edition card is coming this time around, it'll potentially only cost $50 less than the RTX 4070 Ti, and custom variants may actually match its MSRP.
Of course, Nvidia hasn't officially announced the RTX 4070 yet, so its plans may change before its potential release.
Nvidia GeForce RTX 4070 specs rumours
As you'd perhaps expect, Nvidia RTX 4070 specs will likely place lower down the Lovelace lineup ladder. That's not to say it won't pack a punch, as it'll come armed with the same DLSS 3 frame-boosting tricks as the RTX 4090 and 4080. It's also worth noting that it's a midrange card, meaning it'll provide better performance than the RTX 4060.
Here are the rumoured Nvidia RTX 4070 specs:
| | |
| --- | --- |
| |  Nvidia RTX 4070 specs |
| VRAM | 12GB GDDR6X |
| Boost clock | 1,920MHz |
| Base clock | 2,475MHz |
| CUDA cores | 5,888 |
| RT cores | 46 |
| Tensor Cores | 184 |
| Bus width | 192-bit |
New whispers claim that the RTX 4070 shares specs with the RTX 3070, as it'll pack 5,888 CUDA cores. In addition, the mid-range RTX 4000 card now apparently rocks 12GB GDDR6X VRAM, just like the cancelled RTX 4080 model. However, the RTX 4070 boost clock may be 45% higher than its predecessor.
Thanks to YouTuber Moore's Law is Dead, we now have RTX 4070 renders that provide a glimpse at the GPU's cooling situation. According to the YouTuber, the graphics card looks like a more compact version of the RTX 3080, but wields a slightly larger fan.
Nvidia GeForce RTX 4070 benchmark rumours
Alleged Nvidia GeForce RTX 4070 benchmarks suggest the graphics card will be 10-30% faster than the RTX 3090. These numbers again come from Moore's Law is Dead, who also claims the RTX 4070's AD103 GPU is up to 50% quicker when dealing with intense workloads like ray tracing. This means the mid-tier chip could trump current high-end cards, but keep in mind that these metrics are hypothetical and based on early figures.
The graphics card will likely still use the same 12-pin PCIe 5.0 power connector, but its comparative RTX 3090 performance might be matched with a similar 350W TDP. So, if your rig's using one of the best power supplies for RTX 3000 cards, your RTX 4070 upgrade probably won't require a shiny new PSU.
Can't wait for the Nvidia RTX 4070? We'd recommend picking up the RTX 4070 Ti instead. Not only is it the cheapest RTX 4000 GPU currently on the market, but it trades blows with the RTX 3090.