How to gain an edge in 2023
In the last year, generating interest in your Web3 project or protocol has become progressively more challenging. 
Many once-promising projects have fallen into the bear market, each in its way. However, those that have thus far survived have one thing in common: span communities. 
Web3 marketing stands apart from Web2 in the importance of community building. Naturally, much of the discussion about how to gain an edge in 2023 revolves around that. However, tactics and data analytics, part of every marketer's toolbox, are still part of the game.
To discuss marketing in Web3, Footprint spoke to Alison, CEO of KaratDAO, Liudmyla, brand ambassador of NextWorld, Melissa from TheVioletVerse, and Juanzie, co-founder of Web3 Academy DAO. 
What to Do When Nobody Trusts You
After the neverending list of failures and rug pulls from 2022, one of the biggest challenges for Web3 marketing in the future is to regain trust. How?
"One of the biggest things you can do is be more transparent," said Juanzie. According to him, every project should be open, accountable, and should educate. "That way, you can distinguish legitimate projects from those that have bad actors in the space. Those are the most significant things we need to work on in 2023—education, transparency, and accountability."
Should You Put "Community" Before "Marketing"?
Whereas Web2 enterprise growth is usually led by marketing or product first, there's a case to be made that blockchain projects need to focus on their community first and foremost. 
"Community and product go hand-in-hand," said Melissa. She used KaratDAO as an especially pertinent example of this, as the project is a product for creators and at the same time in touch with publishers. "That means trying to get [the community's] feedback when necessary and also applying that feedback. Wherever your community is, tap into them at least once a week, once a quarter."
In the last year, a cessation of communication with one's community has become the warning bell for a rug pull, which is why communication has become so important in the space. 
"A lot of projects were rugging because they stopped communication. It was literally radio silence."
In Web3, the highly active cadence of communication, combined with a preference for Discord and Telegram over one-way channels like email, also gives marketers a closer relationship with their users than traditional tech companies. 
"One of the biggest things is creating a sustainable community that's aligned—we all have the same views or perspectives and goals," said Juanzie. "As you incentivize your community to be more active in your Discord or whatever your platform is, you want to ensure it's a win-win for everyone."
How to Grow a Community of Passionate Members
While it's easy to acknowledge the importance of community in Web3, bringing together a group of mostly-anonymous strangers and having them authentically passionate about your blockchain project is not. 
Where does a Web3 marketer begin? 
Allison said that, for KaratDAO, it was a matter of communicating the product and its value to the world; individuals excited about your vision will come.  
"With the growth of our Discord group and Twitter, we found that individuals are very, very excited and looking forward to becoming either community-involved or helping us grow. It's amazing how Web3 people come together," she said. 
"When they really like your project, they don't even care whether they get paid. They want to help you out. "
Luidmyla said that for NextWorld, attracting a passionate community has come down to communicating the project's utility:
"Building a span community is the most important thing, and people who really believe in the project speak to the utility. Emphasizing utility is one of the keys in bringing people to the project." 
How to create engagement among your project's community
Content is the cornerstone of engagement in Web3. If you create messaging and campaigns that people resonate with, they will return and engage with your product. 
But what kind of content should you plan? And what should the goals of that content be? 
Juanzie provided a five-step marketing plan for engagement from his experience at Web3 Academy: 
Communication: Clear and constant interaction with your followers and members. 

Gamification: Events, giveaways, and incentivizing communication. 

Exclusive benefits: Giving the OGs benefits because they were there from the beginning to support you also incentivizes new members. 

Feedback and input from the community: Encouraging feedback after events and meetings. Those are the moments you take into consideration when planning the next thing. 
Offline Events: The Underrated Tactic
There are plenty of online tactics in Web3 marketing—Airdrops, NFT mints, Twitter Spaces, influencer partnerships, affiliate marketing, and so on.
We often think of Web3 marketing in terms of online strategy and forget there's another world IRL. That's what Allison realized after participating in several offline events. 
"We realized that it's very important to cooperate with offline events. The people that you meet offline can really go talk to you in person; that's another level of connection in life," she said. 
"We have a lot of online events, but I've realized how important it is to have offline events so people can see you, who's involved in the project—it builds another level of trust." 
Using Off-Chain and Web3 Data to Make Better Marketing Decisions
While communication and community-building are the core of marketing at the moment, projects that harness data to make decisions are getting a leg up in Web3, where data is hard to use and fragmented. 
KaratDAO, for example, used Footprint Analytics to do wallet analysis to narrow down the target persona they wanted to attract.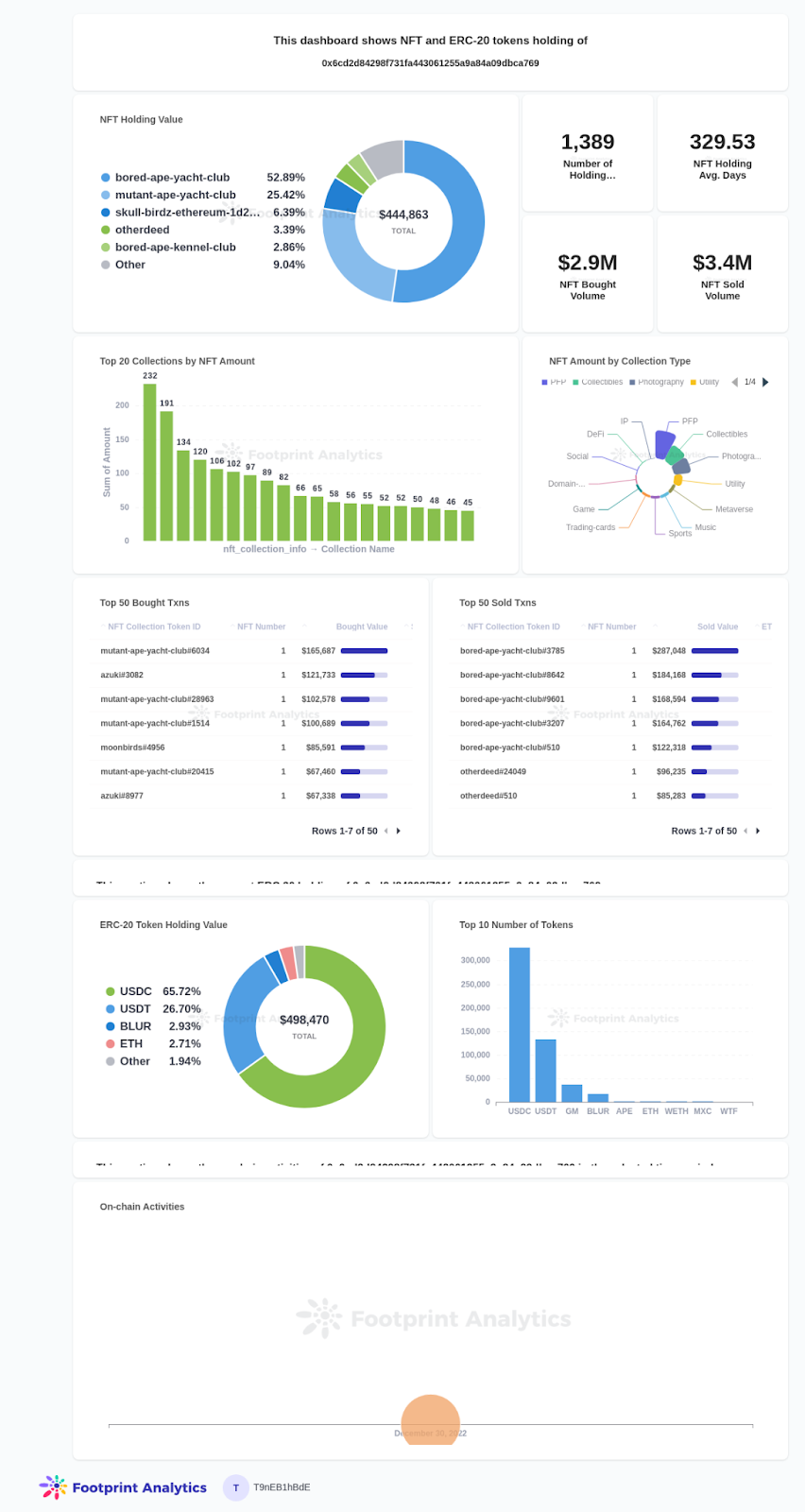 "We definitely look at whether they hold any tokens in their wallet first. It's not about how much in assets they have," Alison said. But usually, when people have absolutely zero assets, they're most likely the kind of person who does tasks to get airdrops. They don't necessarily care about the product—they just want to get free stuff. We also look at if they're active from their wallet."
The Footprint Analytics community contributes this piece.
The Footprint Community is where data and crypto enthusiasts worldwide help each other understand and gain insights about Web3, the metaverse, DeFi, GameFi, or any other area of the fledgling blockchain world. Here you'll find active, diverse voices supporting each other and driving the community forward.