Destiny 2 community unites in tribute to Zavala actor Lance Reddick
The Destiny 2 community is united this weekend in paying tribute to the late Lance Reddick, who has portrayed Titan Vanguard Commander Zavala in the Bungie space game since its original release in 2014. Reddick, who tragically died this week, is known for roles in TV series including The Wire, Oz, and Bosch, alongside his roles in games such as Horizon and the upcoming Hellboy: Web of Wyrd, and is set to reprise his role as concierge Charon in John Wick Chapter 4, which releases in March.
It's tough to pick out a single voice that defines Destiny, but Reddick's steadfast, inspiring delivery as Zavala is certainly a prime candidate for that accolade. From his trademark, "Eyes up, Guardian," to his part in the most recent expansion, Destiny 2 Lightfall – which opens with an impassioned speech from Zavala imploring Guardians to "Keep the enemy away from the Traveler, at all cost" – Reddick's instantly recognisable voice has been synonymous with Destiny for nearly a decade.
Reddick himself has long been an enthusiastic part of the Destiny 2 fanbase. Over the years, he's often shared clips of himself attempting to play the game while fighting off the loving affection of his dogs, or taken the opportunity to read out community memes and fan requests in character as the iconic Commander Zavala.
Bungie released a statement on Friday evening that reads: "Lance Reddick was an iconic presence on screen, in Destiny, and most importantly in person. His love for our community shined through in Commander Zavala, in his uncompromising dedication to his craft, and out of the radiating kindness that touched those around him. To say he will be missed is a profound understatement, yet no less true. Rest in peace, Lance."
Others from the team have also shared their thoughts, with senior dialogue designer Kareem Shuman adding, "He wasn't just professional, he was also joyful and funny in recording sessions. His talent inspired us to new heights. He brightened up our community, and I'm just so sad he's gone."
The community, meanwhile, has taken it upon themselves to pay tribute in-game by visiting Commander Zavala in the Tower and holding group vigils as a mark of respect. Many are gathering around, using poses and emotes to stand around the Titan Vanguard, offering salutes or holding up their glowing shields, hammers, and other such tools.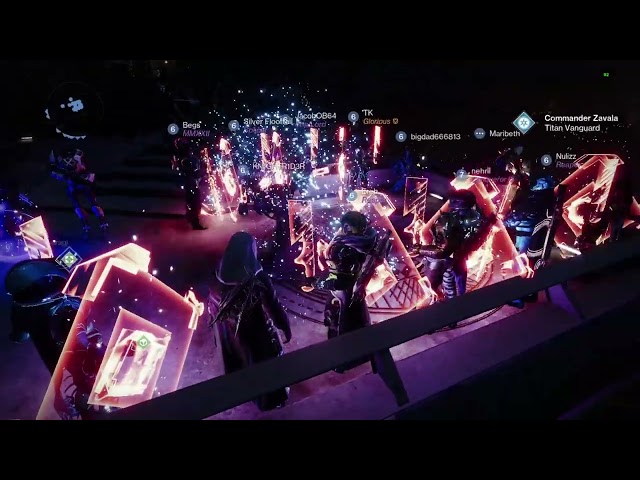 Writing articles about games is, for the most part, a genuine joy and a task I relish doing. But this one really hurts. For me, Destiny's Commander Zavala and The Wire's Lieutenant Daniels will always be Reddick's defining roles – but, just as much as those, I'll also remember his smiling face each time he delivered yet another witty video recorded on his phone. Reddick's boundless enthusiasm and care for his work shone through in every appearance, and he'll be dearly missed.
As tributes continue, players are honouring their Commander Zavala by taking victory screenshots together in the Destiny 2 Root of Nightmares raid, and bringing out their best Destiny 2 Titan builds regardless of which of the Destiny 2 classes they'd normally favour.