Alan Wake 2 voice actors and cast list
Who is in the Alan Wake 2 cast? The Remedy Connected Universe is full of renowned characters brought to life by beloved voice actors, and there are plenty of fan favorites that could make a surprise cameo along the way. But which characters can we expect to encounter in this long-awaited sequel, and who are the voice actors behind them? We've got the answers.
Remedy has confirmed that a number of Alan Wake 2 voice actors are reprising their roles from previous instalments in the Remedy Connected Universe. However, there are plenty of newcomers to bolster the horror game's cast list as well, and we've seen a glimpse of their performances in the Alan Wake 2 gameplay demo. Many of these performers have previous credits in videogame voice acting, as well as film and television. Without further ado, here's our up-to-date cast list for Alan Wake 2.
Alan Wake 2 cast list
Here are the Alan Wake 2 voice actors:
Ahti – Martti Suosalo
Alan Wake – Matthew Porretta
Alex Casey – James McCaffrey
Kiran Estevez – Janina Gavankar
Mr. Door – David Harewood
Saga Anderson – Melanie Liburd
Matthew Porretta
Matthew Porretta once again reprises his role as the eponymous Alan Wake after his previous performance in the role back in 2019 for Control. Outside of the Remedy Connected Universe, Porretta has lent his voice to NPCs in Starfield and Red Dead Redemption 2, as well as Grand Theft Auto V. He's also got plenty of TV and film credits to his name, including Robin Hood: Men in Tights, 90210, and Beverly Hills.
Melanie Liburd
Melanie Liburd shares top billing with Matthew Porretta as the second of dual protagonists Alan Wake and Saga Anderson. Alan Wake 2 appears to be Liburd's first foray into videogames, though she's previously appeared in Game of Thrones and Dark Matter, as well as Zoe Baker in the family drama This Is Us.
James McCaffrey
James McCaffrey is a powerhouse voice actor within Remedy's back catalog, having lent his voice to Max Payne as well as Director of the Federal Bureau of Control Zachariah Trench in Control. In Alan Wake 2, McCaffrey assumes the role of Alex Casey, FBI partner to protagonist Saga Anderson. McCaffrey's highly prolific career goes back decades, from police procedural TV show Blue Bloods to '90s rom-com The Truth About Cats and Dogs.
Martti Suosalo
Martti Suosalo's stand-out performance as the mysterious Ahti in Control earned him a BAFTA for Performer in a Supporting Role in 2020. Remedy confirmed Suosalo would be reprising his role on Twitter after Ahti was spotted serenading a crowd in Watery during a ten-minute gameplay trailer. Outside of videogames, Suosalo has an extensive background in Finnish TV and film, and earned a Best Actor award at the Vienna Independent Film Festival for historical war drama Laugh or Die.
Janina Gavankar
Gavankar reprises her role as Federal Bureau of Control agent Kiran Estevez after Control's AWE DLC. Estevez continues to monitor the strange events around Bright Falls, though Remedy has now confirmed she has a greater part to play in Alan Wake 2. Gavankar's other videogame voice-acting credits include Redfall, Forspoken, and Horizon Zero Dawn, as well as God of War: Ragnarok. You may also recognize Gavankar as Eva Torres in The L Word or as Luna Garza in True Blood, and she's set to appear in the film adaptation of Borderlands as Commander Knoxx.
David Harewood
David Harewood is instantly recognizable to anyone immersed in geek culture, having appeared in TV shows like Supergirl, Arrow, and The Flash. The multiversal Mr. Door was first mentioned in 2017's Control by Dylan Faden, who described encountering a man in a 'dark place' during one of his dreams. He appears to be omnipresent, able to walk through the doorways between realities – a fitting role given Harewood's previous appearance in Doctor Who. He's also appeared in FPS games like Battlefield 3, Killzone: Shadow Fall, and Call of Duty: Infinite Warfare.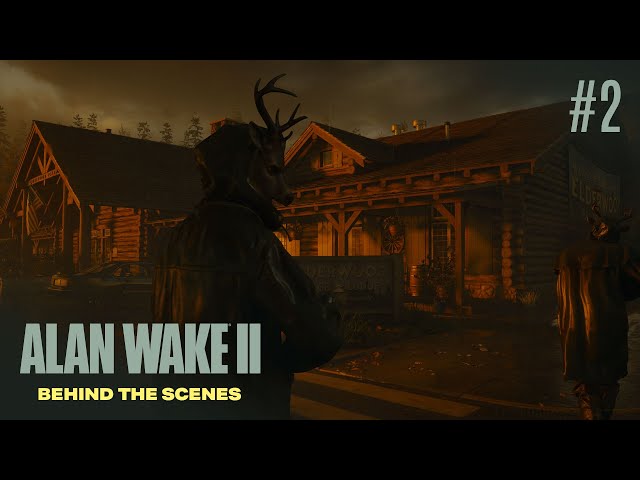 Alan Wake 2 further cast details
Beyond the Alan Wake 2 voice actors, there are some additional cast members who aren't just bringing their vocal chords to character performances. Ilkka Villi returns to lend his likeness to Alan Wake, and eagle-eyed fans may recognize creative director Sam Lake as FBI agent Alex Casey. Sadly, Brett Madden – the voice of Alice Wake – passed away in September 2020, and it's currently unclear whether we can expect Alan's estranged wife to appear in the detective game sequel.
Finally, the bandmates of Poets of the Fall are also returning as the fictitious '70s rock band Old Gods of Asgard, which Alan is set to encounter in the Dark Place during a surrealist chat show episode of In Between with Mr. Door.
Now that you're up to speed on the Alan Wake 2 voice actors, check out how long Alan Wake 2 is as well as the current news surrounding the Alan Wake 2 Steam version and why it's cheap on PC. If you're still desperate for all the details surrounding the action-adventure game, PCGamesN's own Alan Wake 2 Gamescom interview with Sam Lake is sure to keep you sated until you take the plunge into the Dark Place.